Advantages and Disadvantages of Siren's Spell Slot
Advantages
Full Reel Wild with Nudge
Free Spins with Upgrade symbols
x3351 max win
Detailed review about Siren's Spell Slot
Siren's Spell slot free play boasts a classic setup with 5×3 reels, eh? And let us tell ya, it's got a whopping 25 fixed paylines. So you can bet your toque that there are plenty of chances to win big. You'll have a shot at a beauty of a jackpot! It's worth an amazing 3,351 times your stake, but keep in mind, it's only possible if you can handle the super high volatility.
There are a couple of real beauty RTP values in this range that go all the way up to 97.67%, so it's definitely worth a gander. The betting range starts from a modest 0.25 CAD all the way up to a whopping 500 CAD! Now, not every casino out there will give you a chance to play with such a high bet, you know. So, keep your eyes peeled for those generous casinos!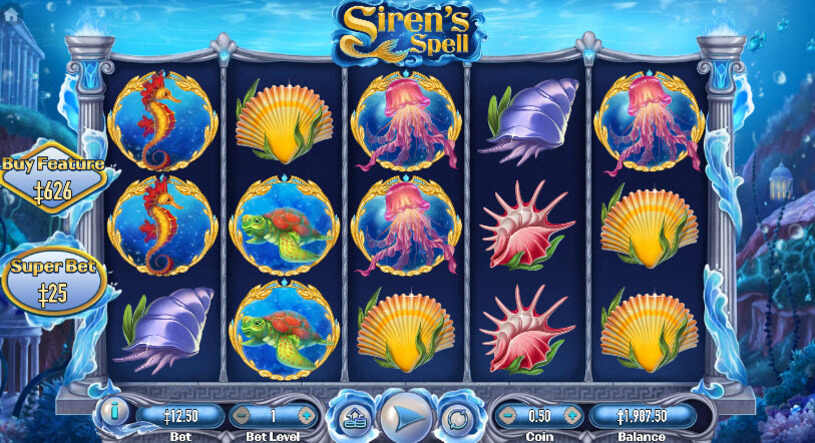 Oh, my goodness, Siren's Spell underwater-themed design is simply breathtaking. The symbols they've got go perfectly with the whole vibe, eh? It all kicks off with the reel-sized Siren Wild, which is just a sight to behold. And don't even get me started on the Pearl!
That little gem is the Scatter symbol, and it's just as stunning as you'd expect. We got yer Clams and Shells, along with a Jellyfish, Seahorse, Shark, and Sea Turtle. It's like takin' a dive into the deep blue sea!
Features of Siren's Spell Slot
One of the features available in Siren's Spell is the Wild. This Full reel symbol shows us the Siren, and it will be used as a substitute on all active lines. If it's only partially visible, a nudge mechanic will push it into place so it covers all positions on its reel.
If you land 3 Scatters, one each on the 1st, 3rd and 5th reels, you will trigger 15 Free Spins.
During this bonus round, there is a so-called Upgrade feature. Each of the high-paying symbols will be upgraded into an even higher-paying one. Therefore there is a counter. When it reaches zero for the first time, all Turtles will appear as Sharks. Then the counter starts over, and all the Sharks will disappear, and there will be Seahorses in their place. The last stage removes them too, and only Jellyfish will appear on the grid. When every one of the symbols I upgrade, you get extra 15 spins.
If you don't really feel like waiting, you can directly Buy the Free Spins at 50.8 times the bet.
You can trigger a Bonus Bet which will get you a lot more Wilds on the grid, but your bet will also be doubled.
Siren's Spell Slot Free Spins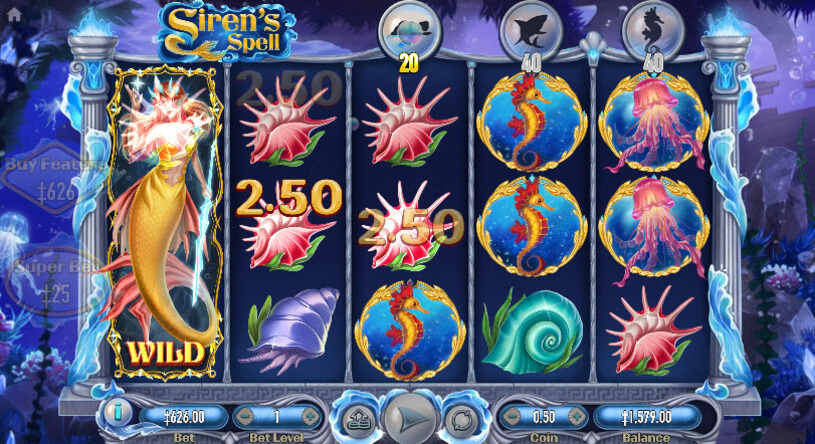 Our opinion
Siren's Spell slot it's not just about the looks, eh? This slot got a real charm to it. It's got that certain somethin' that keeps ya hooked. The Wild symbol, it's a real splendour.  When that bad boy pops up on the reels, you can bet your toque it's gonna bring ya some sweet, sweet wins. It's like a true Canadian, always deliverin' the goods!
Once you qualify for the Free Spins, things start to get a whole lot more interesting. The symbols that can land on your reels start to decrease, one by one. And when that happens, you're in for a real treat because you'll be winning extra Free Spins. It's like a never-ending cycle of excitement.
We gave the reels a good spin, eh? Over 1,000 times, to be exact. Let me tell ya, this game had us completely hooked. We gotta say, we were pretty stoked. We had the pleasure of qualifying for those sweet Free Spins multiple times. But, get this, one time, we upgraded not just one but two whole symbols and ended up with a whopping 45 Free Spins.
Can you believe it? It was a real splendour, that's for sure! That's when we received our most substantial payout of x345. In the end, we had a wee bit of profit, but let us tell ya, the time spent playing Siren's Spell slot, oh boy, it was absolutely priceless.