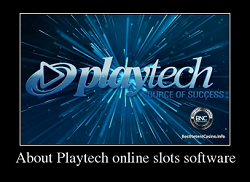 With over 600 different games across multiple channels, Playtech is one of the most well-known providers of online betting games. Poker, Slots, Table & Card Games, Live Dealer Games, Lottery, Bingo, Scratch cards, Sports-betting, and Virtual Sports offers them instant play or download integration.
There are a lot of controversies hovering over Playtech software overhead. Here are some of them:
Playtech Progressive Jackpot scandal, when some licensees withhold or stall Progressive Jackpot winnings from their players;
Overall shame being brought by rogue operators is often associated with Playtech, due to the company proved passivity and lack of enforcing conventional mentality and fair policy;
Embarrassing and incriminating details surfacing on the web about Teddy Sagi- founder of both:
Company Playtech (1999) and Company SafeCharge (2006) – global payment services and fraud prevention firm, is a travesty in itself – because Sagi had a prison sentence for bribery and security fraud himself. Yet, his company is established to provide solutions for fraud protection.
In 1999, several enterprising employees from the casino, multimedia and software industry founded Playtech. They opened their first office in Tartu, Estonia. Two years later, a casino was launched, and in 2004 the iPoker poker network was created, then the provider is actively engaged in the supply of offline and online slot machines, as well as other products for gambling companies.
Today offices are open in 17 countries of the world, and the staff numbers over 5000 people. Among the grandiose events, it is worth noting the signing of a partnership agreement with Marvel Entertainment, which allowed the release of original slot machines based on the theme of world-famous comics. For 20 years of work in the market, the company has achieved significant results in the global market.
All products are regularly independently tested and certified by independent organizations – Technical Systems Testing, BMM international, AGCC). On its own website, they claim to have 140 licenses, and its activities are regulated by 20 jurisdictions.
Playtech regularly takes part in world exhibitions, presenting its products in various nominations. At the same time, many ceremonies turned out to be successful and the provider left with awards.
Affair – famous as a data breach and document exposure for possible tax violations and money laundry (the case is still under investigation). Later their founder was again a hot journalistic topic with the Mossack Fonseca leaks – or so-called "Panama Papers." Teddy Sagi is linked to at least 16 offshore companies.
The latest scandal (2017-2023) being the investigation of the UK Gambling Commission after the death of one 25-year-old man, a gambling addict from Sheffield, directly subjected to Playtech's misconduct. The regulator concluded that there were "serious systemic failings" in how the firm, called Playtech Entertainment Services, managed social responsibility and anti-money laundering processes. After the initial intent to evade a £3.5million penalty for their role in the young man's suicide, the provider finally apologized to the family and agreed to pay the full fee.
About the Playtech Software
Playtech Company has generally acted very conservative in their business.
Some narrations are circulating about the "unspoken Playtech bylaw" prohibiting software junction or work integration of Playtech unit casinos with any other manufacturers. That will say the casino may be either packed with only Playtech slots or any others but no Playtech's.
Only recently, they started to approve multi-platform Canadian online casinos. The business model Playtech follows for the last 10 years is aggressively assimilating big "gulps"- other important software and game developers, which the firm proudly names consolidations.
These acquisitions were nothing but a solid measure for all the observers in the hope of brand-popularity awakening and brand-innovation revival. The deals mentioned are the below procurements:
| | |
| --- | --- |
| 2011 |  Ash Gaming |
|  2012 |  BGO Entertainment Studio |
|  2013 |  PokerStrategy.com |
|  2014 |  Aristocrat Leisure Limited |
|  2015 |  YoYo Games |
|  2016 |  Quickspin and Best Gaming Technology |
Some might interpret this article as a conspiracy theory against Playtech. Still, please accept that we only want to shed light on some important for the players' and readers' actual Playtech brand elements, and we are attempting to keep abreast of the Canadian online gambling forums' trends.
Besides the inferior quality of Playtech slots, the general opinion is that many of them "can easily eat your balance," some are even called "huge rip-offs" and require "truly fat bankroll, or a very, very lucky day!" So, no surprise when the players receive advice to choose any slots from Netent, Microgaming, PlayNGo, NYX, Novomatic (GreenTube, or Yggdrasil instead.
Specifications of some popular Playtech Slots: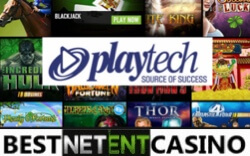 Famous slots of Playtech the last few years are:
Mr. Cashback (15 pay lines; Medium variance; 95.3% RTP; +Jackpot)
Great Blue (25 pay lines; High variance; 94.25% RTP; +Jackpot)
Around the World (20 pay lines; Medium variance; 94.3% RTP; +Jackpot)
The features of Playtech Software
GRAPHICS AND SOUND
Many players identify the sounds and graphics as "cheap and tasteless" with some "inelegant and shabby" bleeps. Predominantly Playtech slots have fewer good qualities and very many defects.
Even the latest releases: (Aug 2020) – Legacy of the Wild 2, and Pearls Pearls Pearls, in the rigorous qua originality and design slot graphic business can be only considered as acceptable, but not amazing!
Note – The quality of the slots from the sub-divisions Quickspin and Ash Gaming are subject to other articles and don't apply to the harsh words above – expressing mediocracy.
THEMES
Playtech has a grip on some large entertainment licenses for movies, TV, and pop culture-themed slots. This includes titles like The X-Files, Marilyn Monroe, The Mummy, and King Kong.
However, contrary to the humongous (500+) amount of slots, the developers can hardly surprise the players with other than common themes and tolerable substance (with the exception again of the releases by the subsidiaries Quickspin and Ash Gaming, showing more creativity in their game subjects).
Ever since Walt Disney Empire began considering (2009) to pull the plug on the Marvel-themed slots, it all went downhill for the Playtech advanced development.
The final date was on the 21st of March in 2017, when the family-oriented Disney Company definitely disengaged all the popular Marvel characters – Thor, Hulk, Captain America, and Iron Man from the gambling industry. So, for the time being, gems, animals, mythology (Age of…), and Justice League Comic subjects will be all that players can get from them once in a few years.
PLATFORM
Playtech offers integrated cross-platform with classic and HTML5 compatibility and all sorts of mobile device accessibility, including a multi-language live dealer section.
BONUSES AND FEATURES/CYCLES
Each game offers a comfortable array of the usual wilds and scatters to keep things on the agreeable and interesting side. Most Playtech games even include free spins and second-screen bonus features. Some others consist of doubtable elements like the strange Mr. Cashback feature.
If you did not win 50 times in a row on some of the active pay lines, you get your money back for that pay-line. (Sure, this never happens as three of a kind is inevitable not to occur, so the question is if this unusual idea for a slot feature has some hampered relation to the game RTP?) The players mainly think that there is not much to praise Playtech's slot with except for some excellent payouts in certain lucky situations.
NUMBER OF LINES
Most of the Playtech slots feature between 15 and 25 pay lines. Occasionally, there are 243 ways (Top Gun-2015) and 1024 ways (The Flintstones-2016, Kanpai Banzai-2020).
RTP PERCENTAGE
The return to a player percentage (RTP) for Playtech's online machines varies widely – from 90% to almost 97%. If one investigates the percentage of all their online games, they are seriously below many other games. Here are some examples of slots with high RTP: A Night Out, Wall Street Fever, Captain`s Treasure, Cinerama, and Football Fans.,
In fact, figures around 90-92% are not uncommon for Playtech. Don't think that this is just a few points less than the 96-98% offered by some other software providers (NetEnt, Microgaming). No, that is much low- if you are placing a small deposit, this is exactly why you will find it lasts much less time into slots than in another game with higher RTP.
DISPERSION/ VOLATILITY
Playtech produces machines with all types of dispersion of winning: low, medium, and high. The biggest group is the one with medium dispersion – for example, Pink Panther, The Punisher, The Mummy, Desert Treasure, and Dirty Dancing, which provide low to mid-sized payouts, but more frequently.
Examples of high variance are slots like Haunted House, Man of Steel, and The Mask of Zorro, which provide a rare but huge win.
TABLE GAMES
Playtech's table games are generally well-executed, fun to play, and assure smooth gameplay. Along with the standard Blackjack, Roulette, Baccarat, and Caribbean Stud, they offer a few unique games for their operators like Wild Viking (similar to Roulette) and Stravaganza (similar to Blackjack).
Diversity and difference of Playtech online slots
The developer's arsenal of games includes more than 500 titles, most of which are slot machines. Many years of experience allowed us to regularly replenish our portfolio with new products, so the old-timers of gambling know these slots well.
The themes of the games are very diverse. But I would like to say separately about the brands created thanks to the signed agreements with Marvel, NBC and HBO.
The range of bets is usually small, so there are not always options for high-risk lovers.
Most of the machines have 15-25 pay lines. There are also other options, but basically, the provider uses the classic scheme.
There are also slots with progressive jackpots in the arsenal. The maximum payout fixed by the developer reaches 6,200,000 euros. It was issued by Beach Life.
Most of the games use standard bonuses represented by special symbols, free spins, bonus rounds and a game of chances.
Our opinion
Previously, Playtech held a leading position and enjoyed immense popularity among gambling enthusiasts. But as of 2019, he has lost the accumulated results. The demand for a developer in the past is associated with poker.
It was thanks to the opening of a large number of poker rooms that the operator entered the top. But over time, competitors appeared and the position could not be retained. Another reason for the decline in popularity is the ban on integration with other software.
As for volatility, most slot machines are above average. With bonuses, everything is bad, since it is rarely possible to win back even 30 bets.
List of Playtech high volatility Slots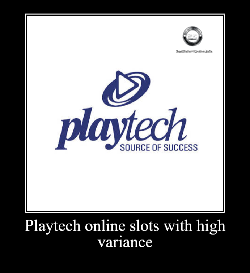 The company doesn't offer anything miraculous. Playtech often releases online slots with high volatility, which are mostly Novomatic or Microgaming "clones." That doesn't make them necessarily bad slots, just unoriginal and, in some cases, slightly lesser imitation.
Besides the inferior quality of their slots, the general opinion is that many of them "can easily eat your balance," some are even called "huge rip-offs" and require "truly fat bankroll, or a very, very lucky day!"
Remember: You need to be careful with high variance slots: they can bring massive winning, but at the same time, you can lose with them many times in a row. So, don't assume to get rich in a 100 spins time.
Chasing after your losses, and expecting a big win around the corner will be the wrong game approach when playing at the best Playtech slots with high volatility.
Great Blue
The Great Blue slot is well known among gamblers and seemingly simple, but you win a decent amount in it. The main feature is the stacked wild symbols.
Maximum potential can be released during the free spins feature. You can trigger up to 30 free spins with an incredible multiplier of 15x.
Free spins can be retriggered.
This slot has 25 pay lines.
The RTP (return to player percentage) is only 94.25%, but the game is still popular because of the high volatility and massive potential of winning.
Marilyn Monroe
The game is very similar to the previous one. Same stacked wilds and same free spins feature with multipliers.
This machine has lower volatility than Great Blue. The player can trigger up to 45 free spins, but the maximum multiplier is only 10x.
RTP here is only 94.10%.
Rome and Glory
Not the most well-known slot in the line-up. But many people know how it works. It's a fact that reminds a lot of the legendary Book of Ra slot by Novomatic. This slot has high volatility and significant potential for big winning.
The player can trigger the free spins feature. Before free spins start, the slot will randomly choose a symbol that will be an additional scatter.
RTP here is 96.08%. You can compare it with the previous slots.
Captain America
It seems to be a Marvel theme, but the slot looks much more boring than their numerous counterparts.
Captain America is a slot with high volatility.
Before the free spins feature starts, the player needs to choose the shields. It can fill extra free spins, extra multipliers (up to X3), and expanding wilds.
Free spins can be re-triggered,
RTP here is 94.92%.
Sultans Gold
This is another online slot with high volatility. The gameplay is a clone of Rome and Glory.
Just like in Rome and Glory, you can trigger the free spins feature. First, a player gets 10 free spins. Then the slot selects the scatter symbol, which will be expanded.
RTP here is 94.99%.
Captains Treasure Pro
Captains Treasure Pro has 20 pay lines and free spins feature with additional expanding scatters.
Another important point is the RTP of 96.08%.
Thai Paradise
This is the next slot in which, before the free spins feature is started; it randomly selects additional scatter.
Thai Paradise has a difference from other slots (as Rome and Glory slot and  Sultans Gold) – it has 15 lines.
The RTP here is 94.99%.
Safari Heat
This is quite an unusual slot with 15 lines. It has less volatility than others. The maximum payout is 9,000 coins. There is a fairly standard bonus feature – 15 free spins with an X3 multiplier with re-triggers.
RTP is sufficiently high, 96.2%.
Panther Moon
This slot looks like the previous one. The free spins feature: 15 free spins with an x3 multiplier.
The RTP here is 95.17%.
During usual spins, there is no action here. You will need to wait until free spins are triggered. Play carefully here – choose a stake per spin that is (at least) 200x more than your account balance.
Should you choose slots with high volatility?
One thing is really undeniable – only with slots with high volatility, you can expect 5000x+ winning! Sure, the attraction of 5 wilds on 5000x+, for example, is enormous. But you should have all your bases covered – with a massive bankroll and with serious patience (before a big win, you can have 300-400-500 or more spins – empty or without bonus feature).
So, with high variance online games, you will often get low paytable, with 'dead' wilds and promises for more free spins 'retrigger,' which hardly ever happens!
But oh my, oh my – if you do get them, consider yourself bloody lucky!
Before starting to play a high volatility slot, If you go for a slot with high volatility, follow these steps:
1. Choosing the right casino
Playtech high volatility slots show the potential for huge winning. If you play one of them, safeguard yourself by checking in advance if that Canadian online casino is respectable and will pay out a huge amount of 5000x+, or the Jackpot, for example.
2. Trying the game for free 
Performing your own tests at selected slots in demo mode will help you to understand and analyze the slot changes. Licensed slots are supposed to work equally in DEMO and REAL money mode.
3. Thoughtful stake selection
After becoming accustomed to the game, decide how much your initial stake will be (it should be tailored to your balance). We advise picking a stake per single spin of at least 1/500 of your current balance. It will help you to get through the rounds until some bonus feature is triggered.
4. Stick to your original game strategy
Cautiously identify your bankroll and don't place additional deposits above what originally you were planning to spend, calculating the amount you have lost. If your approach is to double your balance, then really stop at the point when you achieve double your money.
Summary
Playtech has created some good as well as some plain with unexceptional quality slots. It licenses its software to some large and reputable online casinos in Canada, along with many others of immoral credibility.
Some of their games are exciting and fun and provide the potential of an enormous jackpot win. However, many of its licensees are imposing an extortionate withdrawal limit policy on progressive jackpot wins. So, make sure you do your research and stay away from casinos on the blacklist!