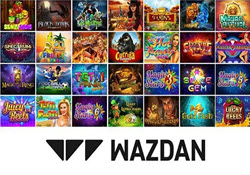 The company is medium-sized and it is based in Malta even though their journey has begun in Cyprus in 2010. They started with server-based solutions and their first license came from Malta Gaming Authority (GMA). The first server-based casino was launched in 2012 and three years after that the company name was changed to Wazdan Limited but it is still famous for the name Wazdan.
In the same year, 2015, the provider developed HTML5 optimizations and since then, the gamblers can play all of their slots on any mobile device they have at home. Because of their hard work, the company received licenses from Curacao and UKGG for the players in the UK (2017). They continue growing and developing in Europe, North America, Latin America and Asia.
In 2020 the company gains ISO certification which is a seal of approval from a third party that the company runs to one of the international standards. The company keeps thriving the best it can do by creating new slots, upgrading the designs of successful games and expanding their markets.
Trustworthy Slots
Wazdan has been creating extremely entertaining slots and all of them are socially responsible. All of their products are developed and regulated by the world's leading regulatory regimes to provide a trustworthy connection between the provider and the gamblers. Fair play is very important for the company and that is why all of the features are created as many jurisdictions have required.
Wazdan's Mission
The vision of Wazdan is connected to the established and long-lasting relationship between the team and the customers. We can see that because the provider keeps listening to the gamblers' needs and wishes. Wazdan provides the best possible solutions for their pains. The whole team is bound together by the passion for games. The people behind this amazing provider are inspiring, talented and hardworking.
You can all benefit from Wazdan's portfolio of more than 130 games (both slots and other games) and you should track their work because they are producing over 12 new titles a year. They also keep updating graphics and designs of other slots by giving you luxurious Deluxe Editions.
Top Slots developed by Wazdan
Most of the slots in Wazdan's catalogue are pretty simple, classic and traditional but this could be an advantage since we all know that gamblers (even veterans) will always choose something well-known and easy to understand. The provider once again proves its flexibility since it has also produced slots with many extreme features that are profitable and engaging.
One of the most successful and popular sequels that continues developing and adding new slots is the so-called Power of Gods inspired by all-powerful beings that have ruled the world for so many years. For now, the main characters in this sequel are many Egyptian gods, Hades, Medusa and all Greek masters gathered in the Pantheon.
The slots look stunning, the players could become absolutely addicted to the plot and all of the bonus features. What is more, the maximum winnings are pretty high which means that the slots are definitely profitable. Other famous slots are Fortune Reels, Sun of Fortune, 9 Lions, Sizzling 777 Deluxe, Magic Fruits Deluxe, Unicorn Reels. All of them are simple and pretty easy to understand, so you should try them for sure.
Special Bonus Features
Hold the Jackpot is Wazdan's trademarked feature which makes them outstanding from the other providers. The slot that debuted with this feature is Unicorn Reels Slot where you explore an enchanted forest and you need to find all 25 hidden unicorns if you want to win the jackpot. Interestingly, this slot continues to be popular until today.
In a nutshell, the grid in this round could be bigger or even divided into two parts and you get 3 re-spins in the beginning. The more bonus signs you see, the longer will the round continue and you have bigger opportunities to grab the largest prize. The feature is also connected to a couple of different jackpots.
There are also more cool features that could be found in almost every Wazdan's slot:
Variable Volatility: All players can modify the size of their winnings and the frequency of the prizes. How cool is that? The possible levels of volatility are Low (low winnings between short periods), Medium (decent winnings between medium gaps of time) and High (extreme prizes that come between pretty long gaps).
Speed Mode: You can also adjust the speed level of spinning the reels. It again could be lite, average and fast. It won't affect the algorithm or the RTP, it will just save you time.
Big Screen: This mode allows you to see the big picture by enlarging the reels. In this way, you will feel like you have entered the game! The logo and some of the animations are cropped, the control panel is replaced with the universal buttons (like in mobile view).
Gamble Feature: It is wonderful to say that all Wazdan's slots contain a Double Up game where you can multiply your prizes as many times as you want to! Even the simplest games that do not have additional features, will allow you to double up your winnings.
Buy Feature: In fact, this is quite new for Wazdan. You can start the bonus rounds any time you want to when you pay for them. What is more, some of the slots offer you to buy some of the rounds with different levels of volatility. Amazing!
Deluxe Editions: This is an amazing way to show your customers that you listen to them! Many slots that have been successful throughout the years have another Deluxe Edition that gives you a sense of luxury and uniqueness.
Why you should trust Wazdan?
The company will offer you excellent customer service because every beginner and veteran in gaming is important to them. Their main aim is to provide engaging innovative gaming solutions and continue updating successful slots that became a favourite to many gamblers.
You will find professionalism and elegance in their slots mostly in the perfect and artistic design, creative plots and numerous features.