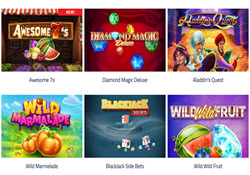 Founded in Malta and with additional operations in Slovenia, Serbia, and the United Kingdom, GAMEART is a leading provider of software and games for online casinos. In just a few short years after its founding in 2013 by a group of gaming industry veterans, the company has grown into a significant provider for both online and offline casinos, as well as for VLTs.
The year 2015 was a watershed moment for the firm. Since its launch in 2013, GameArt has been hailed as the industry's fastest-growing game supplier, with over 200 website integrations to date.
Over 100 recognizable slot machines are included in GameArt's library, and the company consistently releases new games. GameArt's gaming goods are all tested and approved for use in any legal gambling market, and further customization is available on demand.
The games use state-of-the-art technology and design to present both classic and original takes on familiar themes and narratives. The likes of Wild West, Texas Ranger's Reward, Money Farm 2, and Tiger Farm are some of their best-selling games.
Features
GameArt's slot machines often provide a wide variety of bonus features. In most of the slots they've launched thus far, bonus features like wilds, scatters, and free spins are standard fare. However, there is sometimes an additional benefit to be acquired, such as a multiplier imposed by the wild or free games, or some other form of feature.
Not a really interesting part of their games and they aren't making any attempts to be innovative, but their slot machines should keep you entertained enough.
Graphics
GameArt's lack of inventiveness is not limited to the themes they choose for their slot machines, as seen by the dull execution of such themes. Poker cards are frequently used in the visuals, and We've even seen fruit symbols in several of the slots.
Still, we can always find something to criticize about them. It doesn't imply, though, that they don't have games that we'd find entertaining. Even if they don't simply contain themed images on the reels, free slot games like Texas Ranger's Reward and Venetia are nonetheless fun to play.