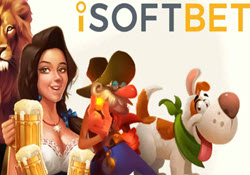 Although iSoftBet provides a comprehensive suite of casino games, we are not aware of any operator that prioritizes this platform. Instead, iSoftBet is frequently employed as an afterthought, providing supplementary slot games to larger platform providers.
iSoftBet provides its customers with access to more than 180 different game titles throughout its broad library of gaming options. The slot machines account for around three-quarters of that total, while the remaining are spread out among the standard assortment of table games and other kinds of casino games.
Even those who aren't big fans of slot machines will have plenty of other games to choose from, including several variations of roulette, blackjack, and others.
The library of iSoftBet slot games currently includes around 160 titles, and the company continues to add new ones at a rate that can be described as "quite decent." The quality of these slot machines continues to rise with time, and if you compare their newest releases to their earlier games, you will notice a significant improvement in the former category.
The games produced by the developer are organized into many categories, one of which is devoted entirely to branded products. iSoftBet appears to have put a significant amount of money into developing this aspect of its portfolio; nevertheless, the names that you will find on that list are not exactly the most well-known options from which they could have selected.
They frequently chose brands that were well-known many decades ago, which is why the list includes movies with names like "Platoon," "Rambo," and "Basic Instinct." There are a lot of more examples of movies and television shows from the 1990s, including a lot of less well-known movies from subsequent decades. Many of these examples are from the 1990s.
iSoftBet slot machines frequently have themes that are based on old-school favourites or on issues that aren't all that innovative. Games such as 80s Night Life, Alice Adventure, and American Eagle will not display a great deal of inventiveness; however, they also offer slots such as Moriarty Megaways, Royale with Cheese Megaways, and Morgana Megaways that can make up for the lack of imagination displayed in those games.
Graphics
When it comes to the graphics, the machines they've produced often have a tendency to seem better the closer they are to the current day. They have a few games that are based on older ones, but they have updated graphics and layouts, and the symbols they use are fruits.
These games are typically among the least appealing ones in their library. Because they steal a little bit from the movies, and the outcome is not very good, you are probably not going to be that thrilled with their 80s and 90s line of branded slot machines. The result is not very good.
Features
iSoftBet will provide you with exactly what you want out of the greatest online slots, which is a solid list of features, and you will have a pleasant time playing their games if you are looking for them.
A game such as Cloud Tales will have mystery symbols, wilds, and multipliers, whilst Skulls of Legend will include four different types of free spins and just as many bonus features in addition to wilds and scatters. As you can see, the characteristics can take on a wide variety of forms.