Advantages and Disadvantages of Rocket Blast Megaways Slot
Advantages
x10 000 max win
Up to 35 Free Spins with Progressive multiplier
Cool design
Bonus Buy
Detailed review about Rocket Blast Megaways Slot
Rocket Blast Megaways slot machine is all about the thrill of blasting off into the great unknown. With a whopping 117,649 paylines and the 6×7 reels used in this game give you plenty of opportunities to score some big wins The big prize is 10,000 times your stake. That's no small potatoes; we'll tell ya that much. But, ya gotta keep in mind this game comes with some high volatility.
So, you gotta be prepared for some ups and downs. And the RTP range can go all the way up to 96.01%. So, keep that in mind when you're spinnin' those reels. If you're lookin' to take a spin on Rocket Blast Megaways, ya gotta know that the betting range starts from C$0.20 and goes up to the huge C$240.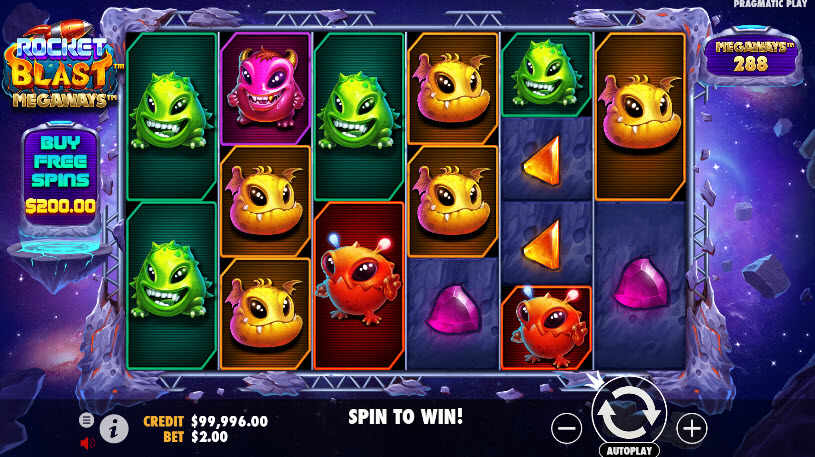 Right from the get-go, you're blasted off into outer space, eh? It's like you're floating among the stars, feeling the cosmic vibes. But hold on tight because once you trigger those Free Spins, things really heat up. You'll find yourself on the surface of a fiery planet, surrounded by intense flames and scorching hot wins.
No matter how you look at it, the symbols you'll come across in this slot game are gonna be a mix of low-value gems and adorable little aliens. And let us tell ya, most of these aliens ain't your typical cuddly creatures. They come with sharp teeth and devilish horns. They're quite the lookers, eh? Maybe not as much in person.
Features of Rocket Blast Megaways Slot
Once a combination that wins forms, the slot will use the Tumble mechanic, don't ya know, to get it removed, eh? This feature allows for the introduction of fresh symbols. It has the potential to result in extra wins and perhaps even more cascades.
Gotta say the Wild symbol in this game is a bit restricted. It's only gonna show up on reels 2 to 6. So keep an eye out for it in those specific spots. This symbol doesn't quite form combinations on its own, but it sure comes in handy as a substitute.
Oh, hey there, buddy! Let me tell ya about the Rocket symbol. It's got a little somethin' special up its sleeve. This beauty of a symbol has an extra feature that's just waiting to be triggered for ya. It's like a little surprise that'll have ya jumpin' for joy, we tell ya! So keep your eyes peeled for that Rocket symbol 'cause it's got a trick or two. This feature, known as the "Wild Stacked," is an absolute gem. You see, it does take those symbols that are sittin' right under it and turn 'em into extra Wilds. It's like a magical spell cast by the slot gods themselves. So, you can imagine the excitement when this feature kicks in. It's like a whole new world of winning possibilities, eh? Just sit back, relax, and watch those symbols transform into Wilds. This here Stacked Wild, starts movin' downwards. One position at a time, just a little nudge. You get multiple tumbles to make this happen until they go away completely.
Rocket Blast Megaways offers you a sweet range of 10 to 35 Free Spins. This feature requires a minimum of 4 Scatters, but if you're feeling lucky, you might just spot 9 or even more Scatters on the reels. This here slot game comes with a real beauty of a feature called a progressive multiplier. And let us tell ya; it's a game-changer! Tumble Reels increase by one notch with each trigger. It adds real power to your wins. So you can expect some really big payouts inside. It's like hitting the jackpot.
Canadian players can purchase Free Spins for a cost of 100 times the bet. There is a small Gamble game before the Bonus Round begins. You'll wager a portion of your Free Spins in an attempt to get more.
Rocket Blast Megaways Slot Free Spins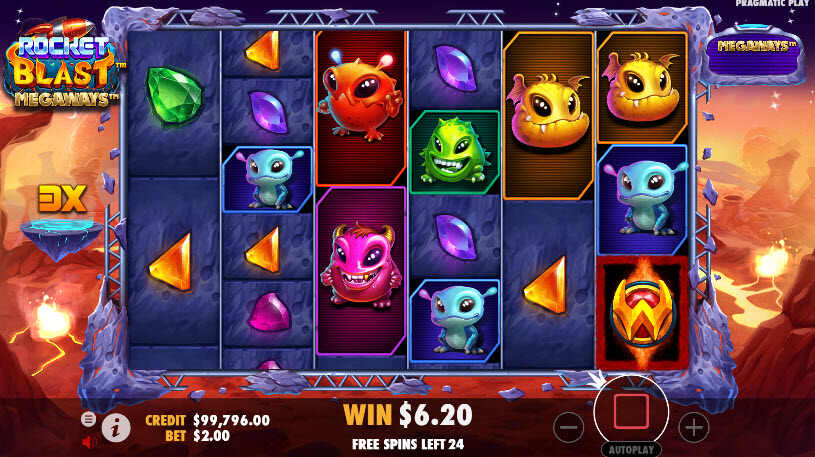 Our opinion
The game looks very cool but rarely splits the symbols to get the maximum number of paylines. Most of the time, the symbols occupy three or four positions at a time, thus rarely forming winning combinations. We're used to whenever the Avalanche feature is triggered, unlocking a series of winning combinations, but that's not exactly the case here.
The Free Spins are the icing on the cake, as no matter how many Scatters you trigger them with, you'll be able to reach the maximum 35 thanks to the wheel of fortune. During this bonus round in Rocket Blast Megaways sot, the most important thing is the multiplier which is not reset. At 35 spins, it can reach quite a high value.
We got lucky, and while playing the game, we qualified for the bonus round several times and each time, we managed to get a good profit out of it. The biggest value the multiplier reached was x25, and the biggest payout we got was x243.