Advantages and Disadvantages of Starburst Slot
Advantages
Iconic - super popular game - often in a hot mood
Awesome flashy visuals and electrifying sounds (plus arcade-like light effects)
Exciting wins from left and right
Thrilling Wild Re-spins feature
Low-risk spinning, suitable for defensive players
Disadvantages
No Multipliers or Jackpots
Low max outlook
Detailed review about Starburst Slot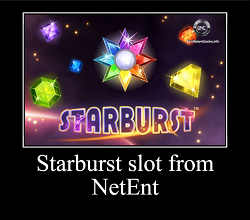 Because of its popularity, Starburst is almost always labelled "hot," meaning it's possible to burst out a huge amount in no time.
The layout here is a 5×3 playing field with 10 fixed pay lines, winning both ways. There is only one bonus function, which makes Starburst a simple yet magnificent game.
The theoretical indicator – RTP (Return to the player percentage) set by the developer is 96.09%, and the maximum payout for a single spin can reach up to 50 000 coins (coinciding) (i.e. 50000 CAD when playing with the max stake of 100 CAD, or calculated as 500x the total bet). The Volatility of the slot is Low, and the hit success throughout the game is 22.65%.
On our page, you can play the game for free in DEMO mode without registration.
If you want to know – one of the most preferred sections on our pages by experienced players is our  "How to win at Starburst slot".
Personal testers' opinion about the Starburst slot
Starburst can be characterized as a game with a short cycle and a low winning dispersion.
The gameplay has a very significant element – 'win both ways.'
Because of its sustainable popularity, you can be certain – the slot has accumulated a massive prize pool for winnings.
This game preserves the balance well and can be used for wagering- it scores 5.97 points (out of10).
The probability of getting any winning in the following spin is approximately 22.46%.
The most fortunate situation is to catch 3 Wild symbols, with which you will get 2 big winnings (triggering spin and Re-spin with Wilds).
Our team believes that the Starburst slot machine behaves best with a bet of 10 CAD per spin. After evaluating countless game sessions, we also summarize that Starburst is not suited to high-rollers (especially in small casinos).
During real money test sessions, our maximum winning was 438x total bets.
It is wise to spin the machine for 30-50 test spins at a low stake to define the mood before launching the game with real money deposits.
Starburst's potential of winning is admittedly low, but you can also play via bigger stakes (like 1/50 of your balance) and, within 30-50 spins, decide to go on playing or exit the game.
Review and recommendations by the testing team
This is one Low Volatility game without a separate bonus round or Free Spins. Here you will have extremely low chances for a big win. Even though the Wild symbols are regularly dropping, the balance increase is quite difficult. The slot often shuffles the Wilds with many other mixed symbols, which hinders big wins from happening. The chance of falling stacked Wilds (one whole reel from 3 wild symbols on top of each other) is not likely.
On the other hand, Starburst is not so lousy at preserving the balance, frequently issuing enough winning combinations to not let it drop dramatically.
As a result of all these different elements, we can summarize that Starburst is neither suited for low-rollers: to have long-lasting fun and excitement (lacking riveting bonus round), nor for high-rollers (lack of massive win potential). The game is good for bonus hunters to fulfill the wagering requirements.
NetEnt declares the following probabilities
The theoretical RTP of the slot is 96.09%. Of those for payout in the usual spins are reserved 68.7%, and for payments during the Re-spins (with stars) are reserved 27.40%.
The probability of getting any hit (winning) is 22.70%.
The probability of receiving a Wild symbol (star) is 8.40%. This number shows the probability of getting any initial wild symbol and does not concern the situations of 2 Wilds at the same time.
The maximum (coinciding) win is 50 000 coins (i.e. 50000 CAD when playing with the max stake of 100 CAD, or calculated as 500x the total bet).
Hidden parameters and settings of Starburst slot (data from testing)
The probability of a hit (any winning) in the Starburst slot is 22,46%.
The distribution of the winnings is 100% in the main game. Starburst doesn't have any bonus feature except re-spin with any wild symbol (expanding).
The maximum payout during the tests was 338x. This is the astronomical number for the slot with 4.24 volatility. As you see, the slot has the massive potential of big winning, but only with 2-3 wilds and Bars or Sevens.
The average winning from the re-spin feature was 7x. Wild re-spins easily can be losing or 2x-7x winnings.
Volatility is 4,24 out of 20 (low). Usually, the winnings and losses are cruising around a player's starting balance point.
The cycle length is short. On the other hand, the winnings are coming with "waves."
The rating of the slot machine for the wagering is 5,97 out of 10. Players can try to complete bonus wagering requirements here.
RTP of 96.09% allows getting a positive mathematical expectation of winning at the casino.
Read at the bottom of this article our tips about how to win at Starburst Slot.
Settings
Provider — NetEnt
Payment lines — 10 (fixed), win-both-ways
Volatility – Low
Hit rate – 31%
Default range of bets — 0.10 to 100 CAD
Playing field — 5х3
The maximum winning is 5000 CAD on a single betline; 50000 CAD coinciding
Bonuses — Wilds, Wild Re-spins, Win-both-ways
Free Spins — No
RTP — 96.09%
How to win at the Starburst slot machine? (Conclusion)
First, check the article How to Win Starburst Slot
We begin our recommendation section by reminding you to test the slot in the free DEMO version before making real money deposits.
Starburst is one outstanding slot choice for starters. There are no complicated features, the spins are quick and straightforward, and the rules are comprehensive. Due to the low variance, it is almost impossible to win a significant prize from small stakes.
We recommend this slot to bonus hunters because it keeps the balance well.
Regarding the game with real money, we reckon that here you will not need big starting capital – 50x bets will be sufficient.
We believe that many players choose this game at the same time, so the prize pool will most certainly be accumulated and ready for winning dispersion. However, you can test the machine with 30-50 spins with very low stakes to identify if it is in a giving mood. Then you can decide to keep on playing or to move to another game.
The Starburst slot machine is unsuitable for players aiming at high-risk games with super and mega-winning prospects.
Starburst slot machine showed sensitivity to certain stakes of 0.50 cents, 5 CAD, and 50 CAD per spin. We evaluated that the results at these stakes were 34% higher. Besides, here to change the cycles, you can try the strategy with sudden spin and max-bet buttons.