Detailed review about The Wish Master Slot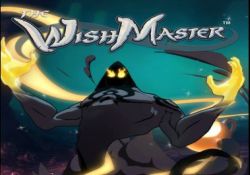 To make your hopes true and accomplish some profits you will be helped by the Wish Master features consisting of several types of Wilds and Multipliers, increasing your win potential, and getting you closer to your current goals. This 20 paylines, High Volatility slot has an RTP of 96.65% and a long stretched cycle.
Try it for free in the DEMO version on our site. No registration required.
Personal testers' opinion about The Wish Master slot
With its high variance, the potential for monster wins, and dangerously unpredictable dispersion, the Wish Master online slot it's not suitable for bonus money wagering. The hit frequency here is 38.21%. Statistically, each granted wish will get you around 7x total bets. With this slot you should use smaller stakes, so you can spread it out over more spins. The highest potential is reached with some of the 3 different Wilds: Expanding, Random, and Extra Wilds. When 2 of them are combined, or even all 3 at once, there is an opportunity to gather a full screen of Wilds, hitting one Mega Win. Normally, this slot follows a loose-loose-win pattern, which makes it hard to establish its mood. Be cautious and observe the features' sequence.
Review and recommendations by the testing team
The Wish Master slot is one of the most popular NetEnt slots and overall, it's an absolute favourite of myriad players of all levels, from all over the world. Excellent graphics, as we're used to from the provider, superb sound effects, great gameplay, and a huge win potential make this a game you can wish for.
During our extensive testing sessions, we established that the slot often spins a series of a few dozen rounds without a win, or with wins smaller than the bet, which actually are losses. Logically when it's cold, it doesn't keep the balance steady and you can easily lose your bankroll in a few moments.
When you land one Scatter symbol, an ominous genie appears from the lamp to offer you one of the following Wish Master features:
Expanding Wild – Every Wild symbol is expanded vertically to cover the whole reel.
Random Wild – During every spin 2 Wilds appear randomly.
Extra Wild – Transforms corresponding symbols into Wilds.
Wild Reel – The reel where the Scatter landed is stacked with Wilds.
Multiplier – Doubles or triples every win. When they are both active, all wins are multiplied by 6.
The genie can make any combination of all these features, but with a maximum of 3 at once. Of course, all the distinct combinations have particular winning potential. In general, when you only have 1 active feature, including 1 of the Wild variations, no big wins are generated. But they are still decent and stable, 50x-150x total bets. On the other hand, when you land 3 Wild features at once, you're in for the big money, up to 750x the bets per spin, and eventually total winnings of a few thousand bets.
The Wish Master is not for the faint of heart. It's dangerous, because of its high volatility and many preconditions to score a huge win. Almost like a mission, where your first task is to score a Scroll symbol (list with the genie bottle indicating the specific bonus) and from there on to land a certain combination of features, to have the optimal circumstances for big payouts.
It requires a big starting capital, even though the Wish Master slot normally triggers a bonus feature at the start of a session.
NetEnt declares the following probabilities
The theoretical RTP of this slot is 96.8%. It comprises 22.8% payouts in the main game and 73.8% in the bonus features.
The probability of any hitting (win) is 38.2%.
The maximum winning is 900 000 coins.
Note: In theory, 5 scrolls (lists with wishes) can drop simultaneously. In this case, only 3 will activate the function (first 3 from right to left), i.e. only 3 bonus features can be active at the same time. The game will begin with the 20 bonus games.
Hidden parameters and settings of The Wish Master slot (data from testing)
The probability of a hit (any winning) is 38,21%.
The maximum payout during the tests was 885x.
The average winning from the bonus feature was 7x.
Volatility is 8,87 out of 20 (high).
Cycle length is from average to long.
The rating of the slot machine for the wagering is 2,08 out of 10.
RTP of 96.65% allows getting a positive mathematical expectation of winning at the casino.
Settings
Provider — NetEnt.
Payment lines — 20 (fixed).
Range of bets — 0.2-400 coins.
Playing field — 5х3.
The maximum winning is 900 000 coins (Idol with the Ruby symbol).
Bonuses — the additional features from the Scroll symbol.
How to win at the Wish Master slot machine? (Conclusion)
Our regular readers know what to expect here. The wise advice is: By all means – try the game in the free DEMO version, before depositing real money.
We do not recommend this game to bonus hunters. Because of its high volatility, it proves to be unsuitable to complete the wagering requirements. The balance is in constant instability with fluctuations between the empty rounds, rounds with insufficient payouts, and the payments of the Scrolls Spins.
If you decide to play with real money on the Wish Master slot machine, here are some tips that might help you land good wins.
Don't use a progressive betting strategy. As soon as you increase the bet, the slot starts to behave differently, pretending the scroll doesn't exist. Try playing with a multiple of 2 stakes: 0.2 CAD, 2 CAD, and 20 CAD (we observed the best performance with such bets).
Our suggestion is to have big funds at your disposal when playing with real money: 300x-500x total bets. Again because of the high variance, there is a good chance you'll have to be patient and stick around longer for a really good combination of the Wish Master features.