Advantages and Disadvantages of Lost Relics Slot
Advantages
Stunning graphics
Lofty max stake
Plenitude of features and extra fast pace
Respectable default RTP
Disadvantages
Low max outlook especially for this Variance
Detailed review about Lost Relics Slot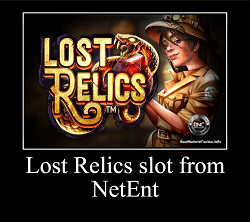 In 2018 NetEnt released another game with an adventurous-ancient-treasure theme, prompted we presume by a fictional historical artifacts hunt. As expected from the Swedish studio, superb graphics and cinematic, suspenseful music pieces are well selected for this paleontological object exploration.
The saying goes: 'archaeology is modern science, one might almost say a disease of the time,' so if you have such 'historical illness' with a zeal for digging fragments, chests, coins, stamps and clues, this is the right game for you. You can experience it here on our site in DEMO mode for free.
Review and recommendations about the Lost Relics slot by the testing team
With this slot, NetEnt is roaming around the Cluster Pays engine machines with the desire to create a game rather for players' entertainment than for their profit.
We cannot deny the game provides some lucrative "second chances" in the form of an 'explosion,' when after a winning cluster is swapped, some random feature can appear, i.e. additional scatters, wilds or coins. But, disappointingly, the paytable is low-priced, delivering insufficient winnings, even for a full screen of the same symbols (which doesn't happen often).
The slot keeps the balance quite well (if it is hot, of course) and can lead on rare occasions to a positive balance due to some successful bonus round.
The bonuses can deliver an average of 20x-50x total bets.
The more rewarding bonuses can pay out 150x – 250x bets.
The maximum results of bonuses during our tests were winnings up to 600x total bets.
Sadly for such an enticing game (action-packed in both – the base and bonus game), it seems can give 1000x total bet only 'on papers'.
Hidden parameters and settings of Lost Relics slot (data from testing)
The frequency of falling of the bonus is statistically every 121st spin (0.83%).
The probability of a hit (any winning) is 34%.
The distribution of the winnings is 60% in the usual spins and 40% in the bonus feature.
The maximum payout during the tests was 346x.
The average winning from the bonus was 42x.
Volatility is 4,23 out of 20 (from average to high).
The cycle length is short.
The rating of the slot machine for the wagering is 3,86 out of 10.
RTP of 96,3% allows getting a positive mathematical expectation of winning at the casino.
Features at Lost Relics slot
Base game features
During the base game, randomly, some winning cluster might turn into an explosion. At that moment, under the cells of the exploded cluster, you will find some of the following 3 features:
Extra Scatter feature;
Extra Wild symbol feature; or
Coin Win feature.
The Coin Win feature delivers payouts from 3 to 30 coins.
The Extra Wild symbol feature fires 3 additional Wilds on positions away from the winning cluster.
The Extra Scatter symbol can play a part in triggering the Free Spins.
Free Spins features
During the usual spins, if you collect 3 Scatters from below variants A) or B)
A) 3 x Regular Scatters – appearing only on reels 1, 3, and 5;
B) 2 x Regular Scatters + one Extra Scatter feature, you will receive 10 (always) Free Spins.
The main attractions of the Free Spins are 3 chests – small, medium, and large, hidden under the grid. Each one of them consists of all or any of the following:
Extra Free Spin token;
Extra Wild symbol token; or
Coin Win token.
To uncover the chests (one by one), you need to receive a winning cluster, which after paying out, doesn't get a refill on the next spin but stays open and possibly uncovers part of the chest. Of these 3 additional tokens, only the Wild symbol token is special because it can reward from 1 to 3 sticky Wilds, which will remain on the grid till the end of the bonus game.
Be aware of the slot mood (personal opinion)
Throughout our test period, we observed the following 2 variants of slot behaviour during the usual spins:
Variant 1 – The slot often delivers Scatter due to an explosion, making a full collection of 3 Scatters to trigger the Free Spins.
After playing these Free Spins, it turns out that they are different:
Not uncovering even a single chest;
Uncovering the chests, but they did not contain any Wilds;
Uncovering the chests, they contained Wilds, and positioned them in the center, close to each other, ending with bottom prized formations.
We advise you to keep on playing after so many unsuccessful bonus rounds cause the well-paid bonuses are near at hand. After several ineffective bonus rounds, we were delighted with 3 consecutive winnings of 150x, 250x, and 450x total bets during our test sessions.
Variant 2 – The slot often triggers 2 Scatters – teasing you, without ever collecting 3 Scatters simultaneously for launching the Free Spins. Either showed a situation with only 2 Scatters but no explosion, or it gave 1 Scatter plus an explosion but did not collect the necessary 3 Scatters.
We reckon that the machine is cold, showing it in the form of missing 3 Scatter. There is no point in keeping playing in this case.
In general, the machine hardly triggers 3 Scatters in sync. When that happens finally, there are also 2 forms of chests rewards showing that the slot is cold:
1) 3 small or 3 medium chests opened – all without any Wilds. Thus, the 4th was always missed to be uncovered by one cell.
2) Various small and medium chests were opened with 1 Wild each but usually didn't connect all the Wilds, i.e. did not provide chances for combinations. This also resulted in a hidden 4th chest.
We pinpointed these scenarios happening in several casinos on the same or different days, with the same or different deposits, which shows that this is a common occurrence.
Therefore we do not recommend that you carry on playing at this slot at that casino. However, if you insist on playing Lost Relics, you better visit another casino. Or just return to the first casino after some time.
Settings
Provider – NetEnt
Payment lines – Cluster Pays
Volatility – Medium-High
Hit rate – 20.05%
Default range of bets – 0.20 to 400 CAD
Playing field – 5х5
The maximum winning is – 1000x the total bet
Bonuses – Wilds, Scatters, Extra Wilds, Extra Scatters, Symbols Swap, Free Spins with Sticky Wilds and Coin Win
Free Spins – Yes
RTP – 96.30%
How to win at the Lost Relics slot machine? (Conclusion)
This is one feature-packed game with complicated options; you should familiarize yourself with the possibilities first in DEMO mode before depositing real money.
We do not recommend this slot to complete the bonus requirements – the wagering index scored here is just 3.86 out of 10 – i.e. insufficient.
We do, however, advise if you decide to play with real money to check the slot mood upfront (using our hints above). Then, if you are lucky and catch it in a hot mood, the Lost Relics slot machine can not only amuse you but reward you handsomely as well.
We recommend you to have a reserve of not less than 250x total bets balance to be prepared for waiting for one good rewarding bonus with 400x + payout.