Advantages and Disadvantages of Giga Jar Cluster Link Slot
Advantages
7x7 playing field with Cluster Pay
x10 000 max win
Mega symbols
Detailed review about Giga Jar Cluster Link Slot
Giga Jar Cluster Link slot play free and offers 7×7 gameplay. There are several RTP options, with the highest reaching 96.48%, medium volatility, and the possibility to win 10 000 times the bet. You will be able to choose whether to bet a small amount, like 0.10 Canadian dollars or go up to the highest bet of 100 Canadian dollars.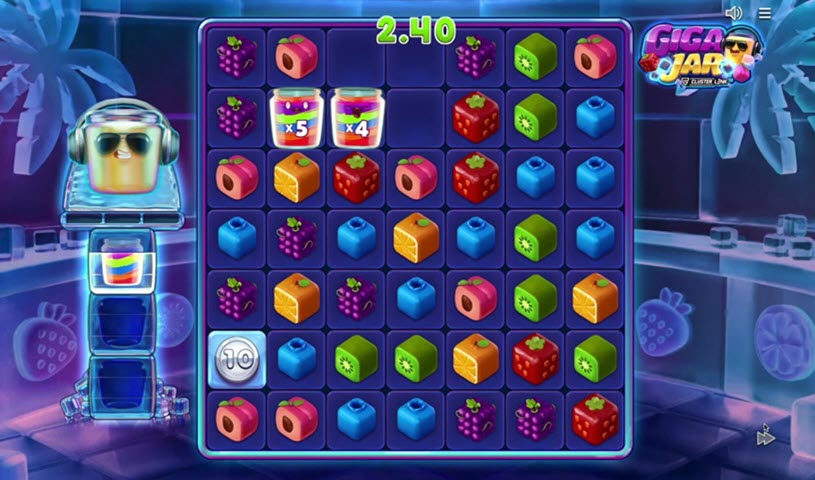 The game certainly has a different look than most slots. Everything looks like a video game to some point, and thanks to the cube-shaped symbols and avalanche feature, it reminds us a bit of Tetris as well, but that's just our opinion.
The fruits aren't done in the most sympathetic way, but that's why the jars are great, especially when they expand. The background should be some semblance of a bar, but in a digital version or something of that sort, but of course, the playing field and features are the things we'll focus on.
Features of Giga Jar Cluster Link Slot
You will receive a payout if a cluster of five or more matching symbols occurs on any of the game's seven reels, regardless of whether or not those symbols are next to one another horizontally or vertically. To qualify for the most valuable rewards, a cluster must include a minimum of 16 symbols. When a cluster has formed, a cascade will begin, which will remove any winning symbols and replace them with new symbols that may provide another payout.
There will also be a symbol that acts as a wild card, and it will add to whichever cluster it is immediately adjacent to. It will show up on the reels when sets of three consecutive cascades have been completed. This method makes it possible to acquire up to three Wild Jars. While it is part of a cluster, it shifts to a new location, and the multiplier that it brings with it grows with each move.
If you get the Instant Prize symbol, you'll win a random sum that may be as much as 1,000 times your original bet if you're lucky.
After two consecutive winning cascades, there are two random features that can activate. These features go by the names Snowball and Ice Breaker.
The Snowball Feature will add one or two Gigantic symbols to the grid. These symbols will be either two by two, three by three, or four by four in size. There are two different uses for the huge symbols: either as ordinary pay symbols or as Quick Prize symbols. When they are part of a winning combination, the huge symbols shrink down to 1×1-sized symbols.
The Ice Breaker Feature can be triggered at any moment, and when it does, it clears the grid of anywhere from one to three distinct sorts of pay symbols. This feature can also activate at the conclusion of a cascading sequence that has consisted of at least two cascades that have occurred one after the other.
There is also something called a Giga Jar, which cannot be opened unless you have first activated all three Wild Jars. It adds symbols that are Mega in size and may apply multipliers of up to 50 times to any winnings they contribute to.
Giga Jar Function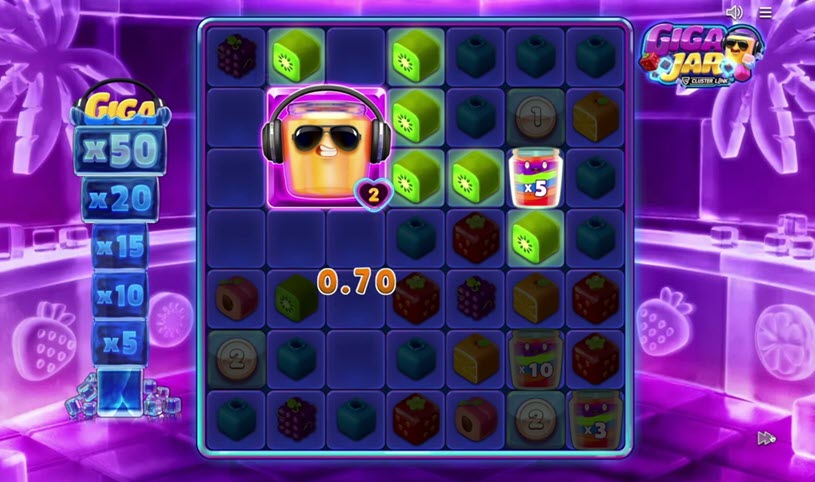 Our opinion
First of all, the game is very addictive, and you should be careful. Thanks to the avalanche mechanism and the cluster payout system, we get quite a few combinations in a row, but they are actually extremely low paying, and it can happen that even five or six combinations in a row fail to make a payout bigger than the bet you made.
It's very helpful when you have a multiplier on the grid because it contributes an awful lot to walking away with pockets full of money. The goal is to get multiple winning combinations so that you fill all three jars and the Giga jar appears, and then you will have a chance to win the grand prize of 10,000 times your bet. We recommend you try out the Giga Jar Cluster Link Slot and see if you find it as interesting as we did.