Advantages and Disadvantages of Forge of Olympus Slot
Advantages
Pay Anywhere engine
x5000 max win
4 Buy Bonus option
Detailed review about Forge of Olympus Slot
In Forge of Olympus, you're in for a real treat with those 6×5 reels! And let us tell ya; there's a Pay Anywhere engine that'll give you a helping hand in snagging some sweet prizes. This here slot machine has high volatility, ya know? It's got a decent payout potential, eh, with a max win of 5,000 times your bet.
And the RTP ain't too shabby either, sitting at a solid 96.25%. Eh, mate! When it comes to the next spin, you gotta shell out a minimum of C$0.20. But hey, don't ya worry, 'cause you also got the choice to crank it up all the way to C$100. So, whether you're a penny-pincher or a high-roller, this slot's got ya covered.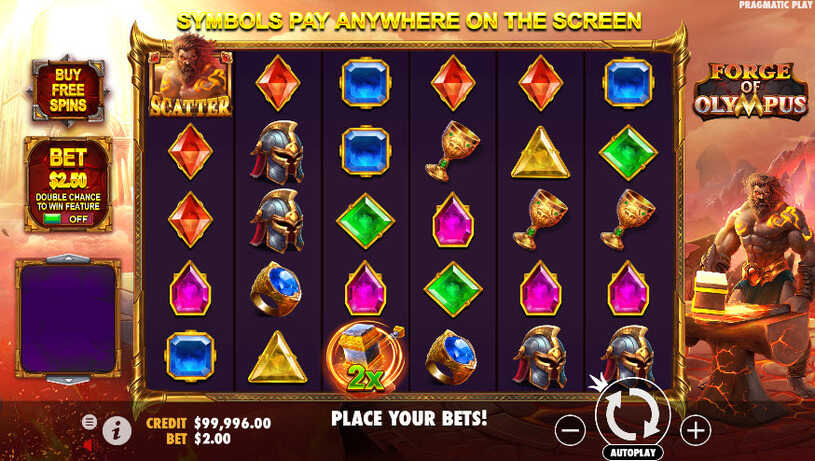 The inspiration behind Forge of Olympus is straight from Ancient Greece. It's all about that god with the mad crafting skills, ya know? This god is the star of the show the other symbols are gems and warrior attributes.
Features of Forge of Olympus Slot
This game features what we call the Pay Anywhere engine. Now, to get your hands on the smallest prize, you'll need a total of 8 symbols of the same type. That's how it works. To truly maximize your winnings, you'll want to have a minimum of 12 symbols gracing the reels.
That's just the beginning, eh? Tumbles will trigger and work their usual magic, don't ya know? They take away the winning symbols. Then, they bring in fresh ones that dropdown. And if this results in more wins, then you're in for another Tumble.
Multiplier symbols sure can make your day better. These beauties can pop up on the reels and bless you with a sweet value ranging from x2 to a whopping x100. Talk about multiplying your winnings. This game here, it's got a real nifty feature, ya know? It takes all multipliers from the winning symbols and adds 'em all up. And then, get this; it gives a real boost to all the prizes in the round.
Finally, eh? We've got ourselves some Free Spins. And how do we get those, you ask? Well, all you need is a sweet 4-6 Scatter symbols. So keep your eyes peeled for those, and you'll be spinning for free. The reward is 10 to 20 Free Spins, you know. When retriggered, it gives you only 5 more spins.
With this here feature, ya can level up. But ya gotta collect 6 multiplier symbols the first two times. And then, ya gotta collect 5 and 4 symbols. Once you reach level 4, you'll be in for a real treat. The multipliers on offer range from a sweet x50 all the way up to a massive x100! And let us tell ya, each level you climb, the starting point of that range just keeps getting better and better. So get ready to enjoy some serious multiplier action.
You can activate the Ante Bet feature, which, for a 25% additional bet, will double your chances of qualifying for Free Spins.
The Bonus Buy menu offers 4 options, all of which are Free Spins but start with a multiplier of a different level. The highest option will cost you 500x for the logos, but you start at level 4 with multipliers from x50 to x100.
Forge of Olympus Slot Free Spins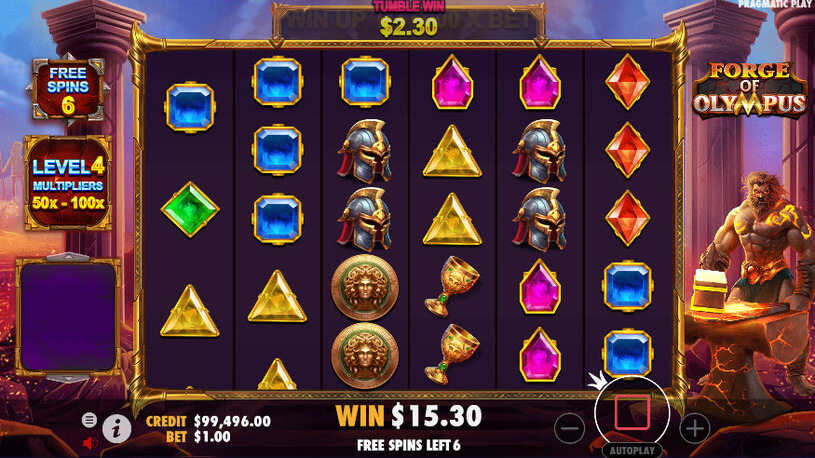 Our opinion
The most epic moment can happen in Level 4 when you are in the midst of those Free Spins. And let us tell ya, the excitement is off the charts because any multiplier that showed up gonna be worth at least an x50. The bonus buying is another way to fast-track to level 4, but it ain't exactly a budget-friendly choice. When things are going well, it's as effective as maple syrup on pancakes.
It's got this fantastic feature where it adds up all those multiplier symbols and then applies their combined value to the final outcome of Tumbles. It's like hitting the jackpot. It's an approach that worked for Pragmatic Play and this series of slots. Here we have wins peaking at a whopping 5,000x the bet.