Detailed review about Elements: The Awakening Slot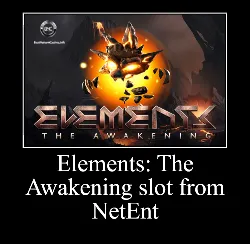 Four different Free Spins features make this machine unique and extremely entertaining. All you have to do to unlock one of the Free Spin rounds is to land four avalanche wins in a row during the main game.
Sounds easier said than done, but once you hit the Free Spins, you'll see where those four elements will take you! This machine offers a maximum winning of 300 000 coins.
The slot has Low – Medium Volatility with a decent initial RTP of 96.02%. The RTP allows obtaining a positive mathematical expectation of winning in the casino.
If you want to know – one of the most preferred pages by experienced players is "How to win at Starburst slot".
Personal testers' opinion about Elements: The Awakening slot (Review and recommendations from the testers' team)
During our long testing sessions, we had a lot of fun and noticed the following things along the way:
This is one delightful game with sublime graphics and amazing sound effects. (Frankly – it has become one of our most favourite slots to play!) If you wait a little bit too long between spins, the elementary creatures get impatient and try to attract your attention. Hilarious!
Other than the swooshing sound when you spin the reels, there's no real background soundtrack. Some electronic music would've made the game even better (according to us). Without exaggeration – this is one of the top slots of NetEnt!
When playing Elements, the most significant thing is to patiently wait for the Free Spins feature because that's where the money is. According to us, the Fire Wild storm and Water Wild storm are the ones with the biggest winning potential.
Regarding the base game:
The slot usually gives minimal payouts with only combinations of low-paid symbols. Rarely can reward you with a massive win via top symbols or other expensive combinations. The Wilds only appear on lines 2 to 5 during the main game and are not paid (one small downside of this otherwise excellent slot).
Another unusual aspect of this game is that there are no Scatters. Only 4 avalanche winnings in a row can give you access to one of the 4 different types of Free Falls. It seems easy enough, but so often, we hit 3 consecutive winnings expecting the 4th one eagerly…..but nothing!
Regarding the bonus game:
Despite that, the bonus game offers a lot of action and advantages; in moments, the payouts were also disappointing. It can't reward a win of 1000x+ total bets, and our average win was around 40x – 80x total bets.
A bonus with a high value winning combination issues about 200x – 300x total bets, which is unusually small. It doesn't keep the balance in the base game as well as you expect, and the bonus game is not activated all that often.
The hidden parameters and settings of Elements: The Awakening slot (data from testing)
The frequency of triggering any of the bonus free spins features is statistically every 116th spin (0.86%). This data can be completely different, depending on the "mood" of the slot. If it is "cold," – you can see 1000 spins without any bonus feature, but when it becomes "hot," – it can fire with the free spins features every 20 spins.
The probability of hitting any win is 29,21%. Note that you will see many situations when the slot will give three winnings in a row instead of four.
The distribution of the winnings is 64% in the main game and 36% in the bonus. These numbers mean that if you're ending your current session without any bonus feature – you're losing about the third part of all your stakes. This fact is the main dangerous point of the Elements slot.
The maximum winning during the tests was 586x. This is a high number for the Netent slot with 7.8 points of volatility. However, it has winning potential, especially in fire and ice bonus features.
The average winning from the bonus was 46x. This is above average winning, which (maybe) doesn't allow to collect a lot of money "for super mega lucky bonus feature" (1000x+).
Volatility is 7.8 out of 20 (from low to average). The main potential of winning can release during the free spins feature.
Cycle length is average (stretching). The more spins player does, the longer the cycle is.
The rating of the slot machine for the wagering is 4,89 out of 10. The main problem with wagering is long waves of losing.
RTP of 96.02% allows getting a positive mathematical expectation of winning at a Canadian online casino.
Slot's symbols and features
The slot has a 5×3 playing field with 20 fixed paylines.
The 4 high-valued Element symbols are (from high to low): Fire, Earth, Air, and Water.
Four smaller variations of the same elements are medium and low value.
The Wild symbol is a metallic box that can appear only on reels 2-5, substituting all other symbols.
Avalanche meter – measures your avalanche wins. Land 4 wins in a row in one spin, and this will activate one of the Free Spin rounds.
Energy Meter – decides which Free Spins will be rewarded, depending on the dominating element during the avalanche of 4 winning combinations.
Four types of Free Spins – Fire Storm/Earth Storm/Air Storm/Water Storm.
All four types of Storms consist of 10 Free Spins, and during each of them, the Wild symbols have their own way of making themselves useful and lucrative.
In the main game
The symbols dissolve when you land a winning combination, after which their empty places are filled up with the next falling symbols, giving new opportunities to land a win. Finally, an exciting lightning-like bolt swirls towards the box-shaped spin button as the amount of your win shows up on the screen.
Left and right from the spin button, you'll see the Avalanche meter, which monitors your progress on the successive falls. The little black rocks light up every time you land a win, and once you land 4 in a row during one spin, the Free Fall mode is triggered.
The Free Fall modes
There are four different types of Free Spins (which are equally good) to add to all the excitement. Depending on the most energetic element during the four consecutive wins is triggered one of the 4 Free Falls:
Fire Storm Wild – 10 Free Spins – Fire Storm Wilds symbols will land on reels 2 to 4 and expand to reels 1 and 5. They can extend in all directions and transform any 2 adjacent symbols into Wild symbols, giving multiple chances for big wins.
Air Storm Wild – 10 Free Spins – 2 Air Storm Wild symbols will fall randomly during the first Free Spin and stay on the grid during the entire Air Storm mode, moving to adjacent positions and creating chances for big wins every single spin.
Earth Storm Wild – 10 Free Spins – Earth Wild Storm symbols will only appear on reels 2 to 4 and will remain on the playing field until they are included in at least one winning payline, three avalanches, or until the last win has fallen. Lots of potential for big payouts.
Water Storm Wild – 10 Free Spins – Water Storm Wild symbols will only appear on reels 2 to 4. They will expand vertically to cover the whole reel, turning the other symbols on that reel into Wilds, creating opportunities for massive wins.
Settings
Provider — NetEnt
Payment lines – 20 (fixed)
Volatility – from Low to Average
Hit rate – 29.10%
Default range of bets – 0.20 to 100 CAD
Playing field – 5х3
The maximum winning is –
Bonuses – Wilds, Symbol Swap, Cascades/Avalanche, Energy Meter, 4 different types of Wilds, Free Spins
Free Spins –Yes
RTP – 96.02%
How to win at Elements slot? (Conclusion)
As usual, our first advice is to test the game in DEMO mode before starting to play for real money.
Most important is to find out what the "mood" of the machine is before you deposit actual money.  When it's "Cold," better move on to the next slot, it might not give Free Spins the next 1000 spins. But when it's "Hot," it could reward you with several features in 100 spins.  If you decide to start playing immediately, we recommend using small bets for about 50 – 100 spins. If the outcome isn't negative, change the bet to how you intended to play in the first place.
Remember to play cautiously with this slot.  If you don't stop playing on time, your bankroll can be easily be reduced to zero in no time.
In conclusion, this game is ideal for small stakes and for amusement purposes mostly. However, if the aim is to increase your bankroll, we suggest playing cautiously while keeping your fingers crossed for the bonus triggering.
Have a minimum reserve of your funds of at least 150 bets.  This slot is in the middle range for fulfilling the bonus requirements.