Advantages and Disadvantages of Barbarossa DoubleMax Slot
Advantages
DoubleMax mechanic
x20 000 max win
Impressive design
Detailed review about Barbarossa DoubleMax Slot
The layout of Barbarossa DoubleMax slot free play is quite standard, consisting of 5×3 reels that may be spun and 243 different possible winning combinations that can be created from these reels. The slot machine offers payouts of up to 20,000 times the amount staked. Both its return to player percentage (RTP) of 96.20% and its high volatility are above average.
Those who are interested in playing Barbarossa DoubleMax will need to put in a minimum of C$0.20 for each spin in order to do so. A high roller has the ability to get away with betting up to C$50 at a time.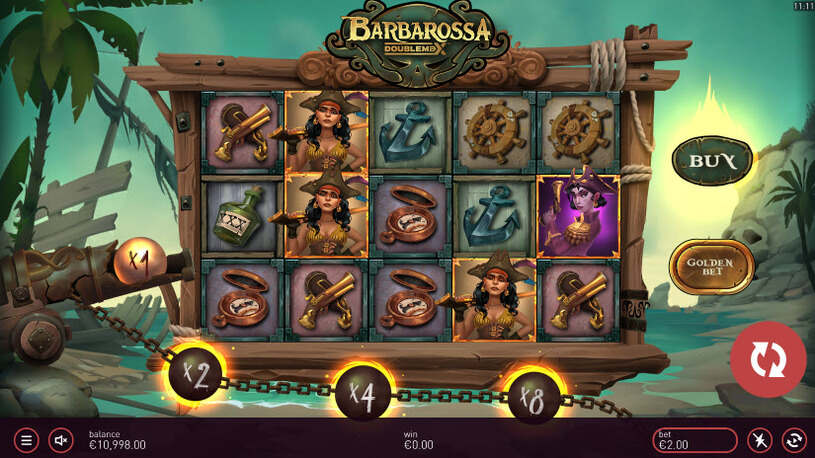 With pirate themes, there has always been room for designers to express themselves, and we know Peter & Sons is very good at it. The action in Barbarossa DoubleMax takes place on a lonely island, and the playing field consists of pirate shipwrecks. The symbols go out of their cell, and the main characters even move, which makes the whole experience quite realistic. Especially impressive is the way in which winning symbols are removed and the multiplier is increased by the rumble of the cannon.
Features of Barbarossa DoubleMax Slot
Barbarossa DoubleMax slot also features a Wild symbol, of course, as it usually acts as a substitute symbol. It can turn into any of the other symbols to form a winning combination.
After successfully completing a standard combination, you will be able to start cascades. As the winning symbols are eliminated from the game, you will receive a Wild symbol in one of the open positions. The remaining positions will be filled with random symbols. If further victories begin to occur at that moment, the cascades will continue.
Along with the cascade, the DoubleMax mechanic is another one of the game's extremely fun mechanisms, and it activates after each win. The value of the multiplier for the round is increased by a factor of two as a result, and it continues to increase by that factor with each subsequent cascade until being reset at the round's conclusion. The multiplier has no upper bounds whatsoever.
The final feature awards you with seven to thirteen Free Spins when three to five Scatter symbols are present on the screen. The only difference, although it is a significant one, is that the multiplier continues to double after each win but does not reset at the conclusion of each spin as it normally would. As a consequence of this, it is capable of reaching absolutely astounding values.
The Golden Bet doubles your chances and qualifies you for the Free Spins round on the Barbarossa DoubleMax slot, but it will cost you 50% more.
Any Canadian player can pay 100x their bet, thus directly qualifying for the Free Spins round.
Barbarossa DoubleMax Slot Free Spins
Our opinion
Naturally, the first thing to mention is the impressive DoubleMax mechanic, which doubles the multiplier on each consecutive winning combination. The playing field here is small, with just 15 symbols, and winning combinations are hard to form thanks to the avalanche feature, but we did happen to have four in a row a few times, bringing the multiplier up to x8.
This is, of course, in the base game, and during the Free Spins, this multiplier is not reset, and so huge values can be accumulated. We got up to x1024, which is a mind-boggling value for a slot game, and this value can keep growing. At this multiplier, even a low-paying combination gives a huge payout. We would certainly recommend the Barbarossa DoubleMax slot to all Canadian players who want to win a lot of money.