Advantages and Disadvantages of Action Boost Amber Island Slot
Advantages
3 kinds of Free Spins
x5000 max win
Mystery symbols
Detailed review about Action Boost Amber Island Slot
Action Boost Amber Island slot play free has 5 reels by 4 reels, and you will begin with 20 active lines; but, during the Free Spins, you will have the opportunity to increase this to 5 reels by 6 rows and 40 lines. This slot has a medium-high level of volatility and offers a range of RTP that goes up to 96.37%. The maximum payout on this slot is 5,000 times the player's initial bet. The betting range is nothing out of the ordinary since it begins at C$0.20 and will go up to C$50 at its highest point.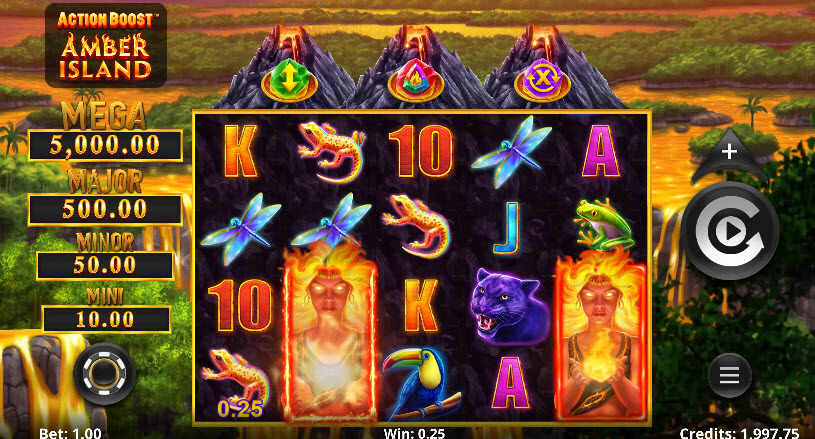 Lately, SpinPlay has been developing slots designs to a very high level. As we see here, the game looks stunning. We have a very beautiful background which represents a landscape of nature, but instead of water, we have rivers of lava. Above the playing field, there are three volcanoes that collect symbols, and an increasing amount of lava flows down them. The symbols are extremely beautiful and detailed. Each animal looks unique, and the Wild symbol is so realistic that it looks like it will come out of the playfield at any moment.
Features of Action Boost Amber Island Slot
If you construct a combination with common symbols, you may win a payout of up to five times your bet, but if you use a Wild symbol to achieve the same thing, you will win ten times your bet. Because stacked Wilds may expand to cover a whole reel, it is possible to get numerous combinations that are each worth a significant amount of money. It should come as no surprise that combos with smaller payouts will also be helped by the presence of these Wilds on the reels.
Random Reveal Symbols (the lava) will sometimes land, and when they do, a change will take place. They will either offer you one of the three gemstones, or they will give you normal symbols.
There are three different kinds of Free Spins that may be triggered by gemstones. You have the option of obtaining one or several variations at the same time.
Green Gems give the player 5 Free Spins, and the game expands to include 5×6 reels and 40 paylines. Wilds that are stacked are expanded such that they span the full reel.
10 Free Spins may be won by playing Red Gems, and during these spins, random reveal symbols will begin awarding prizes or set jackpots through a collecting mechanism.
You will get random multipliers of up to 5x during your Free Spins while playing Purple Gems, which can help boost your winnings.
Action Boost Amber Island Slot Free Spins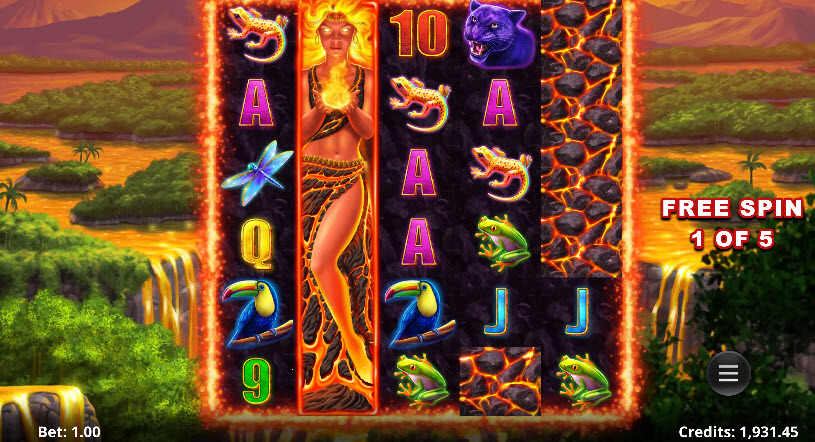 Our opinion
In the basic game, there is a limit to how much you can win. However, it is still possible to rack up some decent top-up wins, and you will have plenty of random reveals and stacked Wild symbols to assist you along the way. Collecting gems is the primary objective of the game, and doing so maintains a high level of suspense since it is impossible to predict when the bonus round will begin. Obtaining a combination of Action Boost modifiers is almost always a good idea, despite the fact that it may be difficult to pull off on several occasions.
Every one of the three bonus rounds has something special to offer, but when they work together, anything may take place. At the very least to the tune of 5,000 times your position, that is, which is certainly a respectable potential for an instalment that has a medium level of volatility. In general, the great design and the interesting features can be the reason to come back for more.